I just got a bit if junk email with a Word document attached showing a Taiwanese rip-off of the iPhone. It's not a Phone but is an MP4 player, or in the words of the email, it is an "Iphone looking Mp4 player"! Basically the email was looking for me to place a bulk order of a minimum 1000!
I'd read on the web the other day about a Chinese company working on creating a rip off of the iPhone but obviously the photocopiers have been hard at work! Interesting to see what Apple Legal department make of this!
The email: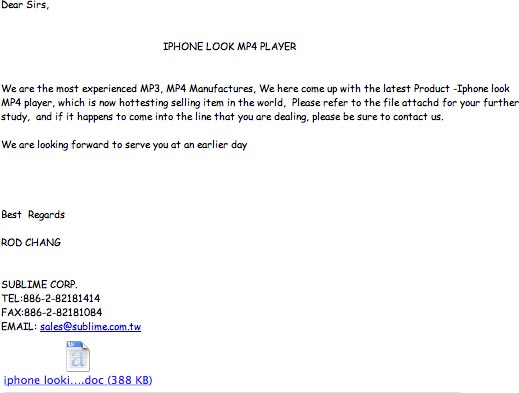 "Iphone looking Mp4 player" Images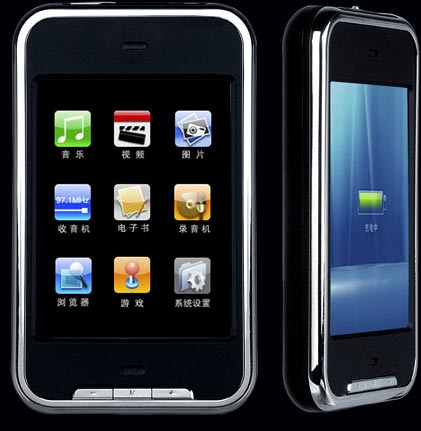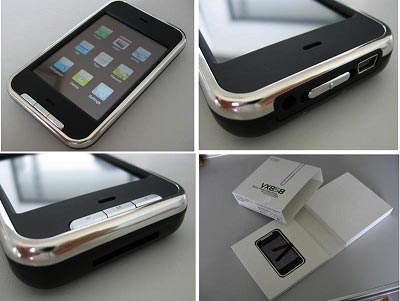 "Iphone looking Mp4 player" Specifications
The email lists the specifications as:
CY?IP4 Iphone looking Mp4 player
Real touch screen mp4
Iphone looking
2.8-inch real touch screen mp4 player2>Multi music formats as MP3, WMA and WAV, good timber and real audio frequency display
MPEG-4(AVI) video format play, full-screen play display
two earphones;
Built-in hi-fi 8 Ohm speaker
Support card-inserting function: MINI SD card, 128M/256M/512M/1GB/2GB/4GB
High-definition JPEG picture browse function
Digital record, A-B replay function
Energy-saving setting, brightness adjustable, customerized power off time
Good timber, support 3D EQ surrounding effect, customerized EQ
Support multi languages
High Speed USB2.0 port
Listen to music while reading E-book, with bookmark function
Listen to music while playing games
FM radio
128MB/256MB/512MB/1GB/2G
User?s Manual, earphone, CD drive
Dimension: 85X21X16 mm (W*H*D
Crazy!
~Rick