Apple made their presence felt at the NAB show in Las Vegas with a preview of the next version of their Final Cut Pro video editing app, Final Cut Pro X.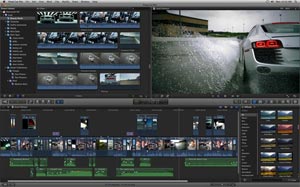 In what is no doubt a long overdue update Final Cut Pro X brings what a lot of Pro video users have been waiting for: a totally redesigned interface, 64-bit memory addressing, multi-processor support, background rendering (no more render window), GPU rendering, use of more than 4GB RAM, video sizes from standard def up to 4k, real-time native format video processing – that's quite a list!
The other announcement that is pretty awesome – a new price: $299 (not sure what that'll be in £GBP yet, about £199 I'd guess) and, similar to Apple's Aperture software which had a price drop recently, Final Cut Pro X will be available through Apple's Mac App Store.
Native AVCHD?
An often featured subject in blog posts here on Suburbia is the AVCHD file format. Previously AVCHD required transcoding into some other format such as ProRes in order to edit it in Final Cut Pro, so a good question is whether the new 'real-time native processing' feature means that this transcoding will be a thing of the past? This is a feature that Adobe's Premiere Pro has had for a while, albeit one that requires quite powerful hardware to make use of it. It will be interesting to see how Final Cut Pro X compares with this.
June launch date
Final Cut Pro X is due to be launched through the Mac App Store in June. In the mean time you can find out more about the new features via a couple of YouTube clips filmed at the preview announcement: