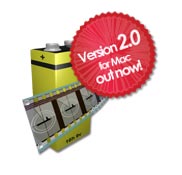 Shedworx
' essential AVCHD tool
VoltaicHD
just took a healthy step forward in functionality with the recent release of VoltaicHD 2. Highlights of the
new features
in the update are the ability to preview AVCHD / AVCHD Lite clips, the ability to edit native AVCHD video and the ability to upload video to YouTube and output to presets like iPhone, iPod etc.
Native AVCHD / AVCHD Lite editing
Version 2 of VoltaicHD increases the scope of the app from simply being a tool to convert AVCHD format video footage to now include basic native editing of AVCHD footage. You can now preview AVCHD / AVCHD Lite video clips within the application and then set simple in and out points to define a section of raw AVCHD / AVCHD Lite video clips which can then be trimmed down and converted.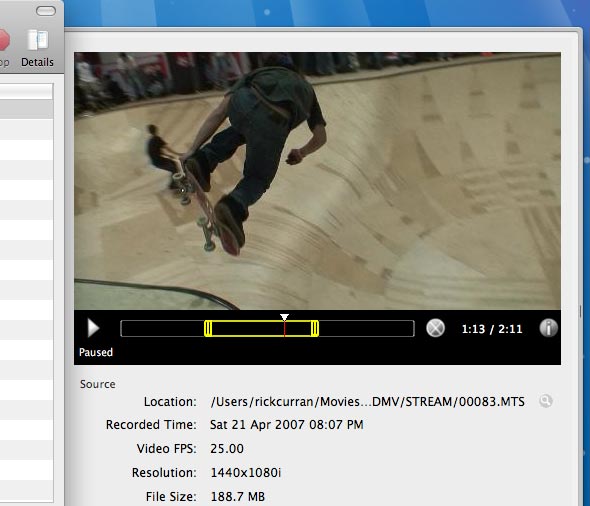 The interface is reminiscent of the new Quicktime X player that comes with the Mac OSX 10.6 Snow Leopard. It's very easy to set the position of the start and end as the position in seconds within the movie is shown in a little tooltip when sliding them around. My own criticism with it is the same that I have with the new Quicktime X player in that you can't use the mouse to fine-tune the position of these points. That's a little thing that I miss from the old Quicktime Pro player's editing capabilities.
Overall though the ability to trim down clips before conversion is a massive timesaver, instead of having to convert a whole chunk of AVCHD footage you can just roughly trim down to the section you want and then convert only the bit you want. Definitely a great and helpful improvement!
Upload to YouTube, output to iPhone / iPod and AppleTV.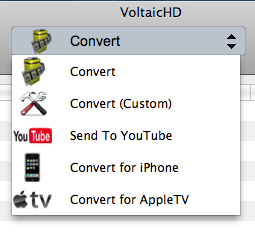 Along with the new preview / edit capability there is also the ability to convert and upload trimmed clips to YouTube directly from VoltaicHD 2.0. There are also preset output options for iPhone / iPod and AppleTV.
One of the things you'll notice when you run VoltaicHD 2 compared to the previous version is the new drop-down menu options at the top of the window. From this menu you can select the specific option that you want, then combine that with a little bit of previewing and trimming in the clip details panel and you're ready to go.
Both of these options make it really easy to get footage off your camera and online or onto your devices, take it with you or watch it on TV. Shedworx make another application called RevolverHD which enables you to create AVCHD DVDs that will work on most blu-ray players, however I find the ease of exporting video that's ready to go onto my iPhone really convenient. As blu-ray players become more commonplace then I think I'll use RevolverHD much more as a perfect way to send HD footage to my extended family.
Worth the upgrade cost for existing users?
It's most definitely an upgrade I'd recommend for any VoltaicHD user, it's worth noting that this is the first paid upgrade to Voltaic since it was released in July 2007. Don't forget that VoltaicHD is available for both Mac OSX and Windows operating systems too.
If you're an existing VoltaicHD user then you can upgrade to version 2 for only $9.99, or if you happen to have bought the previous version since July 2009 then you're eligible for a free upgrade to VoltaicHD 2.0. First-time customers can buy VoltaicHD 2.0 for $39.99 which is still a great deal for a great bit of software!