I've blogged a few
times
about
Flash
and how it seemed like an
obvious tool for the job of a cross-platform means to provide protected streaming video
, in particular for the BBC's iPlayer in the UK. Many of the things I'd thought in those old posts have actually happened now, streaming Flash video is now used to provide access to the
BBC iPlayer
content on many platforms such as Mac OSX, iPhone / iPod touch, Wii, PS3 and other devices. Streaming Flash video is also used for
Hulu.com
in the US.
In addition to the streaming option Flash is now used to provide a cross-platform downloadable iPlayer service via Adobe AIR's protected runtime, so it's all come a long way really. Of course no-one really likes DRM but at least it does provide a way to make all of this content available (geographic restrictions aside) without any major restrictions – apart from not being able to download directly onto the iPhone / iPod touch I suppose!
Adobe Flash Access 2.0
Adobe has just announced a new version of a software developer kit called Flash Access 2.0 (previously known by the snappily named 'Adobe Flash Media Rights Management Server'). One of the main features is that it will enable protection of files that can be played directly within the Flash player instead of requiring it to be wrapped within the Adobe AIR runtime. This will offer a lot more flexibility in that files can be played directly within the browser. The technology supports MPEG4 H.264 content as well as FLV files so the quality of video provided via this technology has the potential to be very good.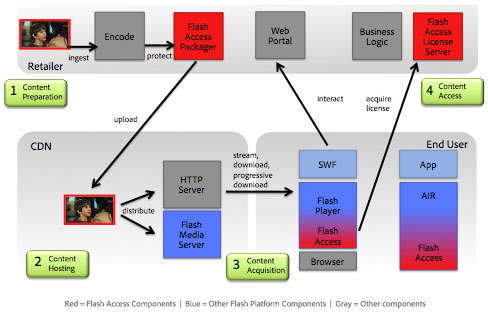 Example of Flash Access 2.0 workflow.
I'm not sure if this has any real impact for services like BBC's iPlayer as they already have a downloadable option via the AIR based iPlayer. It's an interesting situation with distribution of digital video content really, DRM was a complete failure when it came to audio but there's no sense that content creators are about to take the same approach as the music industry. Of course the big missing piece to the digital media distribution puzzle is that none of this Flash based content can be used or distributed to Apple's iPhone and iPod touch platform.
Time for Fairplay DRM to be broadly licenced?
I'm not holding my breath waiting to see Apple add Flash support to their devices and I understand that in many ways. However, the main benefit I'd see personally for support for Flash video on the iPhone is to be able to access more of the streaming video content that is out there as most of it is Flash based, and only the likes of Youtube have the means to offer content in multiple formats. Asides from accessing Flash format streaming video I'm not bothered about accessing any other kind of Flash content on my iPhone (I think the Javascript / HTML / CSS3 / WebKit stack is much more suited, that's maybe something for another blog post).

Although there's some sense in supporting Flash video on the iPhone I think what could be a solution is for Apple to make their Fairplay DRM licencing available for others to use on their own websites, media stores etc. If we're not likely to see media become completely DRM free then what is at least needed is any easy, cross-platform, cross-device method to distribute digital video content to whatever device is desired. At the moment the whole digital video distribution system is full of restrictions, dead-ends and political manoeuvrings by big media companies.
I wonder if it's going to take greater consumer unrest to finally force the various companies to work together for the greater good, to simply be able to play video content that you've paid for on any device you want? Especially if that device is an iPhone or iPod touch? At the moment it's just "a bag of hurt".
P.S. Don't anyone suggest Microsoft's Silverlight as a solution, we don't need yet another format for video distribution!