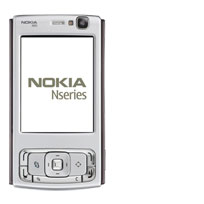 I just got a Nokia N95 today, I'm pretty stoked to get this phone especially as I got it for free, although on condition of an 18 month contract with Orange. I notice that Amazon list the N95 without sim card for £459 so I'm happy with the deal I got from Orange.
iPhone substitute?
The phone is pretty slick, it's a slider phone but it opens up both ways, one way for keyboard, the other for media player controls.
Although not quite as easy as simply rotating the device like the iPhone it is very easy to toggle from portrait to landscape view in most applications. This is especially good for web browsing I've found.
This is a rough list of features of the N95:
5 megapixel camera, Carl Zeiss optics
DVD-like video, 640×480 pixel MP4/AAC
WIFI
Integral GPS & mapping functionality
2.6" display 320×240 pixels
160mb internal memory, Micro SD card slot
Symbian S60 Series 3.1 OS
I'm beginning to play around with it so I'll write some more once I've gotten into it. I'm interested to see how the still images and video footage works out, the little I've used them so far is indoors with fairly low-light conditions and it's definitely an improvement over my old Nokia N80 for still images.
Snappy interface
One thing I did notice is that it felt very responsive when navigating around the various applications. I read a few reviews of the N95 which criticised the N95 for being sluggish, I found the total opposite, maybe there was an earlier version of the firmware which didn't work so well for the people who wrote these reviews. It's certainly a lot better than any other Symbian based phone I've had.
Symbian Applications
One of the reasons I love the Symbian OS is the various applications that are available, not just commercial apps but various freeware / open source apps.
I'm going to have a good look for some interesting applications that really make use of all the hardware thats packed into the N95. One application I came across already is Movino:
Movino is a collection of applications for streaming and broadcasting live video from smartphones. The main applications are the following:

A client for S60 smartphones
A smartphone client for J2ME
A gui application and a QuickTime component for OS X
A video server for linux
A drupal web front end
Basically it lets you use the phone as a webcam source for things like Skype chats etc. I'm going to have to try this on my G5 tower at work and see how it goes, it sounds pretty cool though.
I'll write more once I've used it a bit more.
~Rick