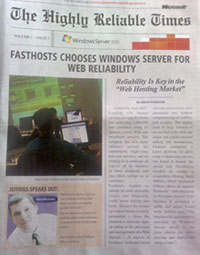 I was reading a magazine at work this morning when I came across an advert for Microsoft Windows Server 2003. The advert is one in a series of ads that Microsoft has been running which aim to promote companies who have chosen Windows Server over Linux because it is more reliable.
Now, admittedly I am a Mac user and obviously this taints my perspective on all things Microsoft ;) but I have to admit I was a bit irritated by the advert. The headline of the advert is, 'FASTHOSTS CHOOSES WINDOWS SERVER FOR WEB RELIABILITY', with a strap-line of 'Reliability is key in the "Web Hosting Market"' (not quite sure why 'web hosting market' is in quotes!??).
Now, I've been a Fasthosts customer for over 6 years, and although I did host a few sites on Windows going back a few years, almost everything I have running now is on Linux. I use both a basic reseller package, which allows both Windows and Linux hosting, and also a dedicated server running Fedora Core 5 Linux. My annoyance with the advert is that I thought it gives the impression that all of Fasthosts runs on Windows Server 2003 when in reality they offer both Linux and Windows options for all their hosting packages, it's just their Control Panel and website that runs on Windows Server 2003.
Not so fast…(hosts)
If I was Fasthosts I would be wary of the impression these adverts give out, it could potentially appear as if Fasthosts were not a very pro-Linux host, or even that Fasthosts don't do any kind of Linux based hosting at all. Of course Fasthosts are the UK's largest Microsoft hosting partner (and apparently the world's largest Windows 2003 Server host) so I guess this kind of promotion is to be expected. But, Fasthosts, don't forget there are plenty of people who prefer Linux over Windows.
When it comes to developing sites using open source software such as MySQL and PHP then the LAMP platform is undoubtedly the best for the job. Windows Server 2003 may be the best, most reliable way to run Windows technologies such as ASP.net etc but you need to choose the right tool for the job. I think in this particular case it was that Microsoft technologies made it much easier to create a system for Fasthosts to use to administrate the setup process for their domain registrations and web hosting. That's not quite the same thing as saying the Windows Server is more reliable than Linux though.
Ok, rant over. I guess my main points are:
Fasthosts don't just provide Windows hosting.
Linux is very, very reliable, despite what Microsofts marketing campaign might say.
I prefer Linux to Windows.
Don't believe everything you read in adverts.
I am, in fact, a fairly happy Fasthosts customer, despite this here rant.
~Rick