Anyone who knows me may now be thinking, "But you don't have a driving licence!?!?".
This is true of course, it's funny how this can seem like such a strange thing to some people (particularly people from somewhere like, um, Canada for instance!) mainly because people are very used to *needing* to have a car in order to get about. But for me it's never been essential, living close to the centre of town I can easily walk, cycle or skateboard wherever I need to go. I've just never had a real need to drive, I've always thought it would be useful but just never been bothered enough to get around to taking lessons.
Of course, it's actually Annie who will be driving the car anyway! I will just get chauffeured everywhere now! Although, now that we have a car I will no doubt want to get driving so it will motivate me finally to get my licence!
One funny thing about not having a licence is when I tell someone that I don't have a licence I tend to have to explain that it's not that I've lost my licence but that I've never had one!
What about the car?
Ok, here's some details about the car, I've broken the information down into two formats, one for men and one for women, click the links below to jump straight to each.
Information for men:
Vauxhall Astra Envoy
1.6 petrol
5 door hatch
Automatic (Annie's only allowed to drive auto here)
2003 Model
One previous owner
Full service history
13,000 miles
Information for women:
Heh heh…
It looks like this: (car pictured is not ours but similar)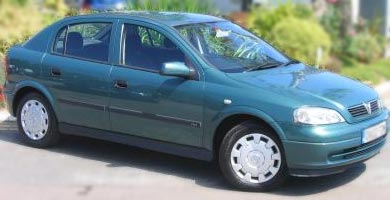 ~Rick