I've been a Sky customer for several years now and I've enjoyed the service overall, but as my (and many other's) viewing habits have changed I have watched less and less live TV broadcasts so the value of Sky's TV package to me has declined. I can't remember the last time I watched anything that wasn't either recorded via Sky+ or just viewed on demand from either Sky Movies / Sky on Demand, Netflix,
Amazon Prime Video
or Youtube.
As is usual every so often I looked around to see what would be the best value option for complete TV and Internet package, I checked with Sky to see what deals they'd offer, compared that with Virgin Media but in the end I found the best option was to 'cut the cord' as it were and not go with either of these traditional satellite or cable providers.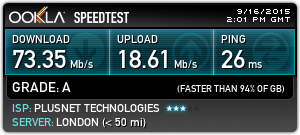 Instead I've switched broadband providers to Plusnet and gone for the fastest Fibre broadband I could get, which thankfully is pretty good where I live so I get close to the full 80mb download speed. To replace Sky Movies and Sky TV I've switched to using the NowTV service which offers both Sky Movies for £9.99 and a TV entertainment package for £6.99 which contains the few channels that show anything I want to watch. Both of these are streaming services so it's all internet based, hence the reason to upgrade my broadband to better support family viewing of all these services.
So far I'm pretty happy with it, one of the benefits of NowTV is that it is completely month to month so if I can cancel it easily if I'm not watching it any more. Overall switching over to this package I've saved somewhere around £25 per month but also gained much a faster internet connection in the process.