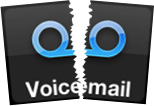 Along with a gazillion other people around the Globe I upgraded my iPhone to the new iOS 6 software that just came out, everything worked fine during the upgrade but afterwards both myself and my work colleague found that our iPhone voicemail no longer worked.
In this case my iPhone is on the UK's Orange network (soon to be known as EE) which along with every other carrier apart from O2 doesn't give you the nice Visual Voicemail the way that Apple intended. Instead voicemail is accessed just like any other mobile phone since the 1990's by pressing a voicemail button which then dials a number and you then access the voicemail by pressing numbers on the keypad.
However, I couldn't even get that far, tapping the voicemail button just came up with an error messaging saying that voicemail was not configured and to get in touch with the phone company (or words to that effect). I looked up some support forums for Orange and on the Apple site but didn't find anything recent relating to iOS6 but I did come up with something from a while ago which seems to have done the trick!
First you need to find out what the actual number is that you need to call to access voicemail, for Orange this is simply '123'. The next and final step is to enter the following sequence into the phone dialer on your iPhone but making sure to substitute the '123' in my example for whatever the number is for your phone service's voicemail:
**5005*86*123#
Just enter that and hit dial, the screen should flash quickly and after that your voicemail should now be working! If it doesn't then you're probably best either contacting your phone operator or visiting an Apple Store. But hopefully it will fix it!
Bonus News – Visual Voicemail coming to EE:
A bonus bit of news I discovered whilst I was googling for a solution is that apparently EE (according to their Twitter account) are going to add visual voicemail to their service in the new year, so Orange and T-Mobile customers should hopefully get that on their iPhones in future.