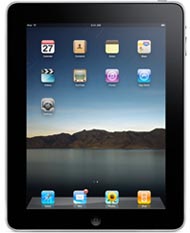 Apple have
finally unveiled their tablet device
to the public so we can finally stop hearing all of the pontification that has gone on for the last few months about a device that Apple had never given any public indication even existed (the pontification only to be replaced by the rumblings and grumblings of those who got too enamoured by some of the various rumours!).
In the true spirit of "Internet Journalism" I thought I'd add my own thoughts about Apple's newly announced iPad. Here are a few thoughts / questions about the iPad and the impact it may have.
Flash on the iPad?
It's a question being asked by many people, and with a move to a larger screen some would say it deserves even more to be on the device. However, I wouldn't expect it soon, if ever to be honest. Unless the Flash plugin can be made more efficient processor, memory, energy wise it won't happen.
I don't think this is simply arrogance on Apple's part as some might say, I think Apple approach the usage of the iPhone OS that runs on the iPhone and the iPad with a view to making it as efficient as possible. Some people were expecting or hoping for the iPad to use the full Mac OSX but are disappointed that it's not on there, although some see that as a limitation I think it shows that Apple isn't willing to put even their own more fully-featured OS on the iPad as it wouldn't run as efficiently on the device. So if they do that with their own OS why should we expect an unmodified / unoptimised version of Flash to be allowed on the device?
I do think there is more to it than just the issue of efficiency though, John Gruber makes some good points in his recent post "Apple, Adobe, and Flash". Personally I doubt Flash will ever be on the iPad or iPhone.
Will there be a new iPad App Store "Gold Rush"?
Even though I doubt Adobe will ever get Flash on the iPad I do look forward to seeing what native apps Adobe might bring to the iPad. Photoshop Mobile is a great little app for the iPhone so a larger sized version of that could be pretty cool. Apple have set a nice precedent for full-featured apps like Keynote, Pages and Numbers at $9.99 each so there could be some financial incentive to create a good image editing app.
It may only be a 1ghz processor in the iPad but it appears to be far more powerful than the raw ghz would suggest. It would be great if the $9.99 price point can remain as it might encourage developers of iPhone apps to develop more for it, as the race to the bottom and the $0.99 / £0.59 price point has made the supposed "Gold Rush" of the App Store an impossible dream for many, many developers.
Does the iPad signify the end of Mac OSX?
Some people have concerns that Apple's focus on the iPhone OS is an indication that Apple is heading away from the geek or power user and is instead focused solely on the domestic / consumer end user. Whilst that may be true to some degree (Apple is a consumer electronic company after all) I think that Mac OSX has a strong future and a rightful place on the more powerful hardware that the MacBook, Mac Mini, iMac and Mac Pro computers offer.
I think that iPhone OS will influence the future development of Mac OSX in regards to user interface and aesthetics. Mac OSX 10.6 Snow Leopard brought a lot of efficiency improvements, largely thanks to the optimisation required to get iPhone OS running on the limited hardware requirements of the iPhone and iPod touch (along with the dropping of PPC support!).
The iPad is the gateway drug for Mac OSX development.
The iPod and iPhone have often been seen as a 'gateway drug' for Apple laptops / desktop computers – people like how nicely they work and are then attracted to Mac for the same reasons. In a similar way I think the iPad will be a gateway drug for iPhone developers getting into developing apps for the full Mac OSX that runs on Apple's laptops and desktops.
Designing apps for the iPad will bring with it some new challenges for mobile device developers – more screen space for the user interface, processor and memory improvements. Apple are touting the iPad as a third category of device in-between a smart phone and a laptop, developers will have to get used to this paradigm as well.
The iPad isn't just a laptop with a small screen (i.e netbook) it's a new type of device with hardware and software tailored to suit the demands of a lower speed cpu and lower memory. Netbooks generally push the limits of their smaller hardware form and tend to run Windows XP or Windows 7 which are really laptop OS's and as such really need to be running on at least a 1.6ghz atom cpu with 2GB of memory to be usable. The iPad is built a whole different way, with a focus on using the minimum of cpu speed and memory by maximising the efficiency of the OS.
Where the iPad becomes the gateway drug is that as iPhone developers (many of whom didn't previously develop for Mac OSX) get into developing iPad apps they will get more familiar with developing for a larger screen resolution. They'll bring with them the knowledge and experience of developing apps within the tight constraints of the iPhone's cpu and memory and start to enjoy the freedom and power that the iPad's higher spec offers them. It's only a short step to see how a developer could then take the next step up and make their apps function on the full Mac OSX laptop / desktop OS.
I look forward to seeing an increase of very efficient programmers developing apps for Mac OSX in future, having learned to code Objective-C within very tight limitations. :)
Other media coverage etc.