Good news on the laptop front, my damaged powerbook was going to cost over £2000 to fix so I'm getting it replaced by the insurance company! So I'm ordering a nice shiny MacBook Pro any day now. So that's cool, but I'll still have to wait 3 or 4 weeks before I'll get it so Annie and I are still without a computer to use at home.
Even though I can't surf the web I can now surf the waves, yep, I finally got a surfboard! I've wanted one for ages and my friend Aaron was moving back to New Zealand and didn't want to pay to ship it back over.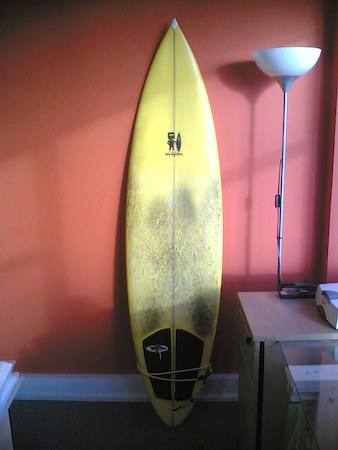 It's a 6'6″ custom Mark Richards board and it's a bit thicker than a regular board so it should be pretty good for the surf around here. I'm looking forward to taking it out on the water even just for a paddle about, I know it's pretty cold over here for surfing compared to say Australia, but there's a big plus side too – NO SHARKS!!! ;)
Fun picture of Natalie time!
Here's a picture of Natalie chilling in one of her favourite environments, a ball pool!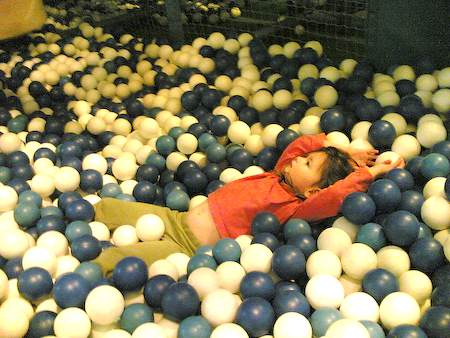 This was taken (with my phone so quality is low!) at the Marmalade Pot restaurant in Dundee whilst dining with Uncle Alistair, Aunty Maureen, Granny and Daddy (Mommy was in Ireland so she wasn't there).
~Rick